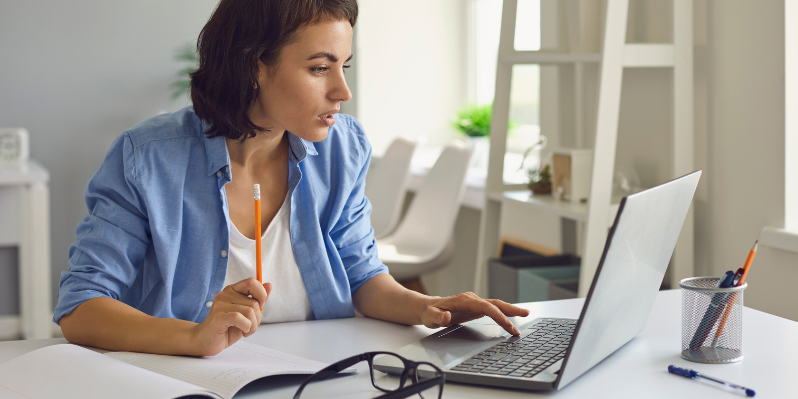 Welcome to our MBA Info Session!
Do you want to learn more about our MBA programme?
Coming to our Info Session is the best way to find out more about the MBA at Darmstadt University of Applied Sciences. Our Info Sessions provide you with detailed information about the full-time and part-time programme. You will have the possibility to get in touch with faculty members and the management team.

Info Sessions: Every 6-8 weeks we offer short Info Sessions, which you can easily join after work. The info sessions start at 6.00pm with a presentation. After the presentation, you will have the opportunity to ask all your questions in a Q&A session. Besides of that, you can consult members of the administrative staff regarding any individual issues regarding admission or application to the programmes. Please register for the next online info session.
Annual Overview
On this page you will find all this year's information evenings and information days of the Master of Business Administration programme.
More dates in the year will follow.
| Month | Attendance at Education Fairs | Online Info Session |
| --- | --- | --- |
| January | | 25.01.2024 |
| February | 15.02. Hamburg, 16.02. Munich, 22.02. Delhi, 25.02. Bangalore | |
| March | 21.03. Franfurt | 08.03.2024 |
| April | 22.04. Sofia, Bulgaria, 25.04. Budapest, Hungary | 08.04.2024 |
| May | 03.05. Istanbul, Turkey, 08.05. Indonesia (Virtual) | |
| June | | 06.06.2024 |
| July | | |
| August | | |
| September | 02.09. Bangalore, 05.09. Hyderabad | |
| October | 07.10. Munich, 05.10. Warsaw, 09.10. Frankfurt, 10.10. Hamburg, 26.10 München, 28.10. Frankfurt | |
| November | 11.11 Bangkok, 13.11 Ho Chi Minh City, 18.11. Sofia | |
| December | 12.12. Southern and Eastern Africa (Kenya) (Virtual), 14.12. West Africa (Nigeria) (Virtual) | |
Visitors welcome
You would like to learn more about the MBA and get an impression of the course contents and the run of an MBA lecture? Then come and visit us. [more]